Wild Lives in Color, Animal Expressions by Caroline Wang on display June 27-August 5, 2017
Featuring Huntsville artist Caroline Wang, this exhibit displays original works inspired by Caroline Wang's trip to visit wild lives in the United States, Asia, New Zealand and Australia.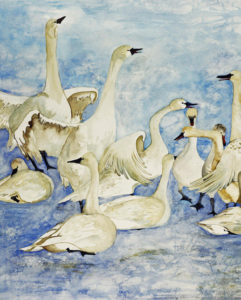 The signature style of Caroline's wildlife paintings is the expression of the animals. The main focus of the paintings is on the objects, not the busy backgrounds. This method creates more imagination, and gives more depth to the artwork itself. Because the unique techniques she used for the paintings are influenced by both Asian and Western culture, they can be enjoyed by people of all ages and experience with art.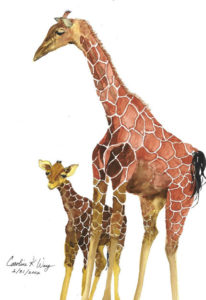 Caroline Wang is a NASA retired engineer and researcher, and she also has a passion for art. Combining these two disciplines, she studied art at the University of Minnesota and received a master's degree in mathematics from the University of Wisconsin. She believes any successful product requires creativity and says, "Art is a platform for developing the creative mind." Watercolor is Caroline's favorite medium but she experiments with different types of materials for her artwork. Her original paintings have been on exhibition throughout many of cities within the Southeastern United States. Since 2004, she has selected a theme for her annual art exhibits. This allows her to focus on specific subjects. Her themes throughout the years have included "East meets West", "A New Look for Asian Art", "Tour Around the World", "Dramatic Gardens", "Ocean", "The Simplicity- Less is More", "Joe Wheeler Wildlife Refuge and Park" and more. Her watercolor painting "Rocks in Mexico" won the top 10 Watercolor Society of Alabama national online contest in 2012, and her painting "Snow Day" won the top 10 in 2011. Her painting "Venice, Louisiana" has received the BEST IN SHOW AWARD at Tennessee Valley Art Association's 31st national art competition Exhibition South 2005. She has received the signature artist award from Watercolor Society of Alabama.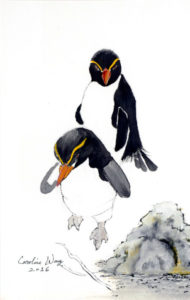 The most fulfilling aspect of her artwork comes from the opportunities it brings for her to share her experiences and her joy of art with others. Caroline has taught art classes for a number of years and has given inspirational speeches to non-profit organizations and schools. Through her exhibitions and speeches, she hopes to encourage people to follow their passion and explore their possibilities.
Since 2003, the Carnegie Visual Arts Center has presented multiple exhibitions throughout each year featuring a variety of local, regional, national, and international art through solo and group shows. All exhibitions are free to the general public. The Carnegie is a 501(c)(3) non-profit art exhibition venue housed in a historic renovated and repurposed Carnegie Library building. The Carnegie is supported by fundraising events, membership, corporate and private donations, and grants.